Lee Williams Won the Main draw for the: Nissan GTR + £4,000!
Congratulations
Lee Williams
Congratulations to Lee Williams who won our Nissan GTR + £4000 on Friday Night!!
Now, we have had some jammy people win cars so far but this one takes the biscuit! Lee not only had 1 ticket but he entered the competition on the last day with about 10 mins left until we cut off!!
What a result he has had! This is a total game changer, he has won a 2013 Nissan GTR plus £4k tax free cash from a single £8.49 ticket!!
Lee came to the unit on Wednesday to pick his new car up and was grinning from cheek to cheek!! What a cracking lad and the bonus is that we have once again found a winner who is nuts about cars, he plans to use the GTR as his weekend car.
Fair play mate we are all chuffed to bits for you!!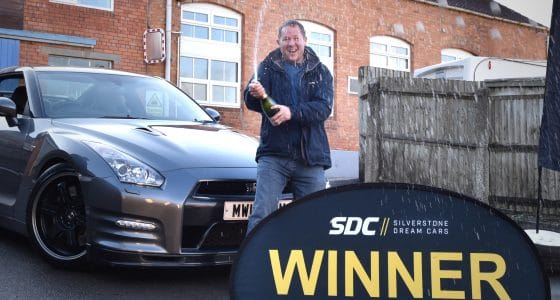 What Lee had to say
I'd not heard of Silverstone Dream Cars before but came across the competition on the last day and couldn't resist!! £8.49 what a result!!